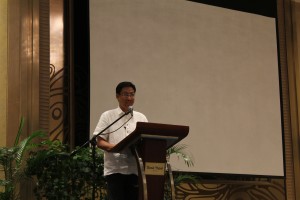 The ASP held its 1st Quarter General Membership Meeting last Wednesday, March 1, 2017, at the Mayuree 1 Ballroom of the Dusit Thani Manila in Makati City.
Deputy Insurance Commissioner Ferdinand George A. Florendo, head of Financial Examination of the Insurance Commission, discussed updates on the recent and future action plans of the Insurance Commission affecting the actuarial society. During the open forum, questions were raised from Ernesto Reyes, Romeo Abada and from the floor regarding topics such as how IC can help alleviate the financial impact of the new regulations, the re-alignment of local requirements with international standards and the impact of the ASEAN union amidst the global rise of protectionism. Deputy Insurance Commissioner Florendo responded along with supplementary answers by Ms. Maricel Basallote, Head of Actuarial Division, of the Insurance Commission.
The ASP also honored its seven service awardees Rina Velasquez, Orlando Manalang, Joanne Dela Cruz, Coralyn Del Rosario, Lulu Sison, Chito Garcia and the late Isagani De Castro. Introductions were done by Chona Ventura, Romeo Abada, Ronnie Mirandilla, Maricar Cabading, Avic Lim, Sharon Maranan and ASP President Roy Racela. The awardees received their service plaques except for Coralyn Del Rosario and Chito Garcia who could not be there. The family of the late Isagani De Castro received his service plaque.
The business meeting began by outlining the projects for the actuarial society this 2017. ASP Vice President Jess Ocampo also announced the venue for this year's convention which would be at Misibis Bay Resort at Albay, Bicol. The actuarial society also welcomed new associates and affiliates.