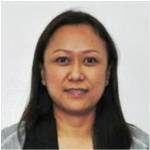 In Rina's three decades in the actuarial profession, she has worked in life insurance, starting her career at Cocolife, consulting at Watson Wyatt, pre-need at PhilamPlans, healthcare with PhilamCare, then back again to life insurance with Philamlife,  and later becoming the signing actuary of Manulife. Currently, Rina is FWD Life Insurance's Chief Actuary.
Rina graduated from the University of the Philippines with a bachelor's degree in Statistics, attained her Fellowship in 1996, served in the ASP Board from 2009, and became ASP President in 2011.
Rina is a study in patience and resilience. Rina is virtually unflapabble even in the most trying situations, with the tightest of deadlines.  She exudes calmness and the gentlest nature, even if faced with the most demanding internal customers.  You would be very lucky if you had Rina in your team, a solid, quiet and often uncomplaining worker. Nonetheless, Rina knows when to stand her ground and will not hesitate to state contrary opinions.
I am very fortunate to have been able to work with Rina in three different companies: Cocolife, PhilamPlans, and FWD.  With God's grace, I hope she will not  hesitate for us to have a fourth time.
Through the years that I have known Rina, from Cocolife post EDSA Revolution, to PhilamPlans, and lastly at FWD Life, Rina has retained the integrity of her values and personality—no artifice, no politics, pure dedication to her work.  At FWD Life, she is often the first 1st person in the Actuarial team to be in the office, and the last to leave—sometimes I wish she would leave earlier, so I do not have to stay as late too.
Outside of work, Rina is mother to Cara, who just finished university.  I would sometimes overhear her sweet counsel to Cara over the phone, and I could see how caring she is as a mother. Cara inherited her mother's love of music and her skill for dancing.  Her Lovely Ness dance routines at Cocolife are a classic, as well as her moves on the  dance floor with usual partner Romeo Abada. (To the millennials, Lovely Ness is Alma Moreno, famous for dance routines where she is twirled in the air). Rina also sings well, if only she could remember the lyrics.
Indeed, I consider myself blessed to have had Rina as a friend, always supportive, never judgmental.  And the actuarial profession is so much the better to have her in its midst.