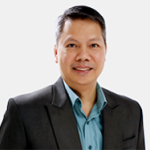 Actuaries are often known for their analytical problem-solving skill, mathematics proficiency and business acumen. However, not quite as known are their communication and interpersonal skills. Actuaries often act as a bridge between the hieroglyphics that actuarial science may appear to be and the various personnel that they collaborate with at work, some of which are not from the same mathematical background. Orlando J. Manalang, or Orly to those who know him, is one such exemplary bridge. He is an esteemed actuary with great skillfulness in communication. This, coupled with his keen comprehension of several human resources subjects, has made him one of our leading experts beyond the actuarial industry.
Orly graduated from the premier state university, University of the Philippines, in 1978 with a Bachelor of Science in Statistics cum laude. He then completed his Graduate Studies in Actuarial Science in 1989 in the same university.
He entered the actuarial industry by working as an Actuarial Associate at Ayala Life Assurance Co. in 1988. He would later serve as Assistant Manager from 1991 to 1993. Orly began his foray into human resource management by becoming a Manager for Organizational Change and People Management Group at SGV & Co. from 1993 to 1995. He would later become the Principal of SGV's Human Capital Service Group from 1995 to 2000. From 2000 up to the present, Orly has been serving as the Managing Director for Institutional Synergy, Inc. The latter is a management consulting firm specializing in actuarial services and executive search, among others. In between, Orly had given public service as a Consultant for Pag-IBIG Fund from 2003 to 2012.
Orly is a Fellow of the Actuarial Society of the Philippines. He is also both a Certified Benefits Professional and a Certified Compensation Professional of the American Compensation Association (ACA). He has attended several trainings by institutions such as ACA and Arthur Andersen in the United States for subjects such as Managing Employee Benefits, Quantitative Analysis and Change Enablement, to name a few. His strong foundation as a practitioner of actuarial science, coupled with his proficiency in human resource management subjects, has made him a leading expert. Orly has conducted trainings for a variety of organizations such as the Marketing Management Association of the Philippines, Personnel Management Association of the Philippines and SGV and Co.
Orly's legacy is not limited to his speaking engagements. Aspiring actuaries would probably find his name familiar as he is one of the principal contributors for the 2005 Private Retirement Plans in the Philippines Study Note – a study material for the ASP Integrated Exam II. Exam materials aside, Orly has served as a paragon as to how effective actuaries can be, when they serve as true bridges for greater understanding of actuarial science.