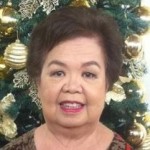 American mythologist Joseph Campbell once said that in the ancient Aztec civilization, motherhood is viewed as a heroic deed as it is the giving over of oneself to the life of another. Maria Lourdes Lilia Sison, or Lulu to those who know her, fits that ancient and timeless standard. Aside from being one of the illustrious actuaries that have graced our society, Lulu's sense of motherhood is indeed as heroic as her achievements have been sterling.
Lulu's journey begins when she graduated from Atimonan Quezonian College in 1951 with second honors. This elementary is underscored her brilliance as she had accelerated to her diploma. She then graduated from Atimonan Central Institute in 1955 as valedictorian. In 1959, she completed her Bachelor of Science in Education degree from the premier state university, University of the Philippines, as a Math & Physics scholar. She completed her Master of Arts in Statistics in 1963. In 1982, she completed her Masters in Management from the Asian Institute of Management. Unflagging as she is, Lulu then completed her Doctorate in Business Administration from the Polytechnic University of the Philippines in 1974.
Lulu was the former Senior Vice President and Actuary of Philippine Life and Fortune Life. She has handled forums for Munich Re, Swiss Re and SCOR from 1979 to 2003 for financial management. She has also handled Immersion on Wealth Management with PhilamLife. A true scholar, Lulu has authored technical papers and presented in various conventions and foreign trips in various countries such as the United Kingdom, Thailand and Hongkong.
Though in her retirement, Lulu has continued to be active in the Actuarial Society of Philippines serving in roles such as Governor and Treasurer. She was also Secretary of the Council of Senior Citizens – San Lorenzo Chapter as well as the Chairman of Sanlo Seniors Multipurpose Cooperative.
At the heart of Lulu's accomplishments is motherhood. She has raised three children with love and guidance, giving over herself for their lives. There's the brilliance of Angela, a doctor of Medicine and of Luis, an engineer with a doctorate. And then there's the joy that Daniel brings – a joy that put a spotlight on how motherhood is truly a heroic act, one that many are called to answer and Lulu has clearly answered. In May 25, 2015, Lulu was recognized by the City of Makati as one of the "Five Outstanding Mothers of Makati 2015." This annual recognition pays tribute to mothers who have successfully raised their children and were able to contribute to community development and have been a source of inspiration of others.
Through the years, people have witnessed Lulu as a great actuary through her various triumphs, but, more importantly, they have witnessed Lulu as a greater mother and perhaps a hero at that.