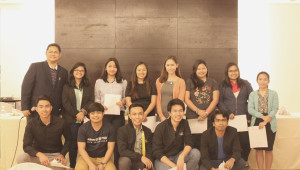 The ASP held its 3rd Quarter General Membership Meeting last September 22, 2017, Friday, at The Metropolitan Club in Makati City.
Ging Igual, a Consultant from Willis Towers Watson, discussed how to create balance at work and how to effectively deal with work and life situations. With data gathered by Willis Towers Watson, the speaker expounded on what issues matter to both employers and employees, and how those are also applicable to circumstances outside work. The talk was capped with the speaker enjoining everyone to stand and to dance to "Can't Stop the Feeling" by Justin Timberlake.
The Business Meeting began with Website Committee Chairperson Cham Vergara discussing updates to the website. Vice President and Programs and Arrangement Chairperson Jess Ocampo informed the attendees on the latest developments related to the 58th ASP Convention this year. President Roy Racela served as a proxy for Life Insurance Committee Governor-in-Charge Avic Lim, to discuss the upcoming Life Insurance Reserves Guidance Notes, which will specifically focus on the incoming IFRS 17. Rodirick Takiang, Exam Committee Governor-in-Charge, shared the results of the June 2017 exam sittings, the members up for Fellowship, the December 2017 ASP Exam Catalogue and the review sessions for Retirement Benefits and Non-life.
In behalf of Jose Ang, Roy Racela reported for the Professional Standards & Review Council and for the Educational & Eligibility Council. Sharon Maranan, Health Committee Governor, shared the current status of the drafting of the HMO Valuation Standards. Roy Racela, as a proxy for Meng Santiago,  reported on the activities of the Social Insurance and Professional Development Committees, such as the consultative meeting with SSS President Dooc and the Data Science seminar last June 28. Tisha Darvin, Governor-in-Charge for the Employee Benefits Committee and Non-Life Committee, gave updates regarding the review of the PAS 19, a forthcoming audience with the BIR regarding expediting retirement benefit plan approvals and the update to the ASP Guidance Notes for the Non-life Reserve Valuation Standards. Dulce Santiago, Pre-Need Committee Governor-in-Charge, discussed concerns with the pre-need valuation standards.
For the Membership Committee, upcoming projects include the career talk in DLSU and the revisions to the ASP brochure. The ASP will also hold Learning & Development Series, a sequence of seminars which intend to strengthen the competency and technical expertise of the members of the society.
There were 12 members who took their oaths of membership, notably with 1 new fellow, Norman Coral.
Afterwards, the day was punctuated with the sports fest, simultaneous badminton and bowling games. The badminton games were played for fun while the bowling games were scored for final tallying. For the bowling games, the winners were awarded with gift cheques.