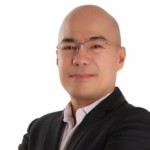 Some people have this perception of actuaries as these reserved mathematically-gifted individuals, hard at work with computers and calculators but with limited time and energy for anything else. These people would probably be pleasantly surprised when they meet Romeo Abada or Meo to those who know him. His combination of intellect, passion and enthusiasm has made Meo one of the established actuaries in our society.
Meo graduated from Ateneo de Manila University in 1984 while consistently being in the Dean's List. He completed all actuarial units in Master of Science in Mathematics part-time from 1985-1988 at the premier state university, University of the Philippines. He later completed units in Master of Business Administration part-time in 1989 at the De La Salle University Manila as a Philamlife Scholar. That same year, he became a Fellow of the Actuarial Society of the Philippines. He then became a Fellow, With Distinction, of the Life Office Management Association in 1990. In 1998, he became a Fellow of the Society of Actuaries.
Meo entered the industry as an actuarial staff in Philamlife in 1987. He rose among the ranks until 1995 by becoming an Assistant Vice President and Valuation Actuary and, later on, a Senior Assistant Vice President and Product Development Actuary. From 1996 to 1998, he was Chief Actuary for Lippo Life in Indonesia. From 1998 to 2001, he was Chief Strategy Officer, Southeast Asia CFO and Chief Actuary for Allstate Life Insurance in the Philippines. From 2001 to 2004, he was Chief Strategy Officer, Chief Actuary at Prudential UK in Vietnam. In 2004, He was Executive Vice President for Corporate Strategies for Generali Filipinas. From 2005 to 2008, he was Regional Chief Actuary for the Asia-Pacific Region at Transamerica Reinsurance in Hong Kong. From 2008 to 2009, he became Assistant Vice President and Regional Actuary for the Asia Division of Manulife Financials. From 2010 to 2014, he was the Business Leader for Retirement, Risk and Finance Consulting for Mercer Philippines. Through the years, Meo has developed into an actuary who is also a multi-skilled strategist with multi-faceted leadership skills.  Today he is Senior Director of the Actuarial and Pension Services in the Advisory Service Service of SGV/Ernst and Young.
In 2015, Meo became the President of the Actuarial Society of the Philippines. With his indefatigable energy, Meo became the primary driver for the actuarial society's growth and development amidst the regulatory changes in the insurance industry. The Insurance Commissioner fondly calls him the "bright" boy for his intelligence and Derek Ramsey good looks. This triathlete has given so much to the society during his term as President and still continues to make his presence felt. Younger actuarial professionals are lucky to have Meo as someone they can look up to as he has consistently shown how much more actuaries have to offer.
SDModina