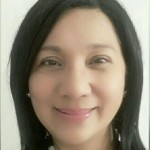 The great graphic designer Milton Glaser once said, "What you teach is what you are. You don't teach by telling people things." Rachel Arada or Doodle to those who know her completely exemplifies that adage. As an actuary and an educator, Doodle has been a steady influence in actuarial education.
Doodle graduated from the University of the Philippines, with a Bachelor of Science in Statistics in 1976. She then completed her Master of Science in Mathematics (Major in Actuarial Science) in 1979 in the same university. She would later complete her Ph. D in Mathematics Education with a Chancellor's Award in the same institution. Doodle is a Fellow of the Actuarial Society of the Philippines, a Fellow of the Life Office Management Association with Distinction and a Fellow of Life Insurance Marketing and Research Association (LIMRA) Leadership Institute.
Her industry experience includes stints at the Great Pacific Life Assurance Company, The Philippine American Life Insurance Co as Assistant Vice President and Actuary and CMG Life Insurance Co, Inc as Senior Vice President, CFO and Chief Actuary. Doodle had also given back to the actuarial society by being Treasurer and serving as a member of the Examination Committee and of the Life Insurance Committee. She is currently a Professor Lecturer at the Institute of Mathematics at the University of the Philippines. She is also a consultant and a resource person for a foundation which is engaged in the upgrading of the standards in Science and Mathematics Education in the Philippines.
Doodle has also been a prolific writer having written and presented various papers such as the 1988 Expense Analysis for Life Insurance Companies (with RD Gatcheco), Study on Hospitalization and Claims Experience of Life Insurance Companies and HMOs (with ME Herrera), The Pre-Need Industry (with E Roa), Pre-Need Actuarial Study Notes (with M Cabading, E Carada, O Solis, V Tanjuakio, LC Ventura), 2001 Group HMO Claims Experience (with M Cabading), Implications of Genetic Testing on Health Insurance, 2001 Pre-Need Inter-Company Persistency Study and The Actuarial Science Program in the Philippines: A Historical and Curricular Development Perspective.
On the domestic front, Doodle is married to Dr. Ernesto Arada III with three children. Former students of Doodle have gone on to become actuarial professionals in their own right within the industry. Some would remember their days as a student under Doodle, learning actuarial concepts straight from someone who practiced the profession and who, luckily for them, happens to be erudite and scholarly on these as well. The actuarial society is brimming with gratitude to have someone like Doodle, who's passionate about education, playing a significant part in the continuation of the actuarial profession in the country.
SDModina