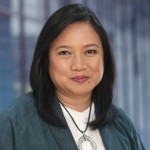 As they go up along the industry, Actuaries would go on to be a wearer of many hats. The different roles and responsibilities entail them to wear one hat for one duty and another for the other. Maria Elena Baltazar Herrera, or Maya to those who know her, is one of those wearer of varying hats. An actuary, Maya also happens to be a management consultant, a teacher and a writer. Her breadth of accomplishments within and outside of the actuarial industry is a testament to her intellectual prowess and versatility.
Maya completed her Bachelor's degree in Mathematics from the University of the Philippines. She then later completed her Master's degree in Actuarial Mathematics from the University of Michigan. Maya then earned her PhD in Organization Development from the Southeast Asia Interdisciplinary Development Institute (SAIDI) School of Organization Development. Maya is a Fellow of the Actuarial Society of the Philippines. She would later serve as its president.
Maya has served as Treasurer of the AIM Scientific Research Foundation and has held the post of Chief Financial Officer of Asian Institute of Management (AIM). Prior to joining AIM, she was the Chief Financial Officer and Actuary of the Manufacturer's Life Insurance Company's Philippine office. She was also practice leader of the health care, group and risk management practices of The Wyatt Company (Philippines) – now Towers Watson. She has held general management posts in other industries including computer software, personal care manufacturing and marketing.
She is currently an Associate Professor at the AIM where she is co-Chair of the Strategic Management Department. She is Program Director of the Institute's Strategic Finance, Finance for Senior Executives and Enterprise-Wide Risk Management Programs. She is also the co-founder and President of Solutions Incorporated (an Abelica Global firm), a management consulting firm that specializes in providing actuarial and employee benefits advice.
Maya's published work covers the areas of leadership, strategy, risk management, corporate social responsibility, innovation, family corporations and health policy. She writes the column "Integrations" for The Manila Standard Today.
Maya is happily married with children to a fellow actuary, equally excellent and versatile as she is. Her magnanimity in sharing her intellect and many gifts has made her one of the luminaries of the actuarial society, a paragon for future generations to come.
SDModina