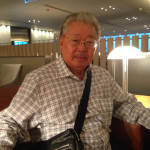 A single drop of water creates ripples. The adage goes that every act has a ripple effect, that it has results beyond what is immediately seen and known. Enrique Zalamea or Rick to those who know him may know a thing or two about the ripple effect. Or rather, Rick, with his brilliance and unflagging determination, has been making waves through the years not just within the actuarial society but within the country as well.
Rick graduated from De La Salle College in 1960 with a degree of Bachelor of Science in Commerce major in Accounting. He took postgraduate courses in statistics at the University of the Philippines (Padre Faura) preparatory to postgraduate courses in Actuarial Science and Business Administration at the University of Michigan. He also attended the Executive Program of the JL Kellogg Graduate School of Management at Northwestern University.
Rick became a Fellow of the Actuarial Society of the Philippines in June 1965 and would later serve as president in 1972 at the young age of 33.
Rick began his actuarial career as an Actuarial Trainee with Philamlife when he was in his 4th year of college and stayed in that position until taking up schooling at the University of Michigan. He went back to Philamlife in 1965 as Actuarial Department staff under then Chief Actuary, Alec Brooks who also happens to be a past president of the ASP. Rick subsequently moved to the Sales Department as one of the sales managers under the Home Office Direct Sales reporting directly to then Executive Vice President for Sales, Rodrigo delos Reyes.
Rick decided to establish an actuarial consulting firm due to the opportunities available then. His storied career has given him the opportunity to serve as the actuarial consultant for a number of posts, the most notable of which include the Securities and Exchange Commission for 9 years, where he initiated the Rules on Pre-need Contracts. He was also a significant consultant for the National Home Mortgage Finance Corporation for 3 years where he initiated the concept of the Pag-ibig Fund. He would later collaborate with Mr. Leo Tan at the Home Development Mutual Fund where they formulated the Rules of Pag-Ibig Fund as a provident fund.
While Rick's Actuarial Firm continued to grow while his wife was handling the operations, Rick's expertise was employed across the industries. For health care, he was president of Philhealth. For life insurance, he was president of BF Lifeman Insurance Corporation. For non life insurance, he was president of BF General Insurance Corporation. For real estate, he was president of BF Homes, Inc. For commodities futures, he was president of the Manila International Futures Clearing House, Inc. For stock market, he was a duly SEC-registered trader of Anselmo Trinidad and Company, a stock brokerage company. And even for the fast food industry, he was chairman and CEO of Foodmine, Inc (the franchise holder of Kentucky Fried Chicken then).
Rick has also given back to the various professional, civic and religious organizations he was a part of. He was a member of various actuarial associations as well as becoming a President of PLIA and ISAP/PIRA. He fulfilled civic duties under various homeowner associations, the Pasay Jaycees, the Rotary Club of Manila, FINEX and the Management Association of the Philippines. Rick fulfilled religious duties as well as a member of the Christ the King Pastoral Council and the Adoracion Nucturna Filipina.
Rick may now be 76 years but he is still active in his actuarial firm. Though people may jokingly lament that he is no longer employed, Rick's works in and outside of the actuarial society have continued to create ripples that the society and, even, the whole country are still benefitting from today and perhaps for years to come.
SDModina