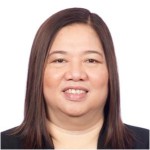 Mona Lisa Bautista Dela Cruz, Lisa to her colleagues or Ma'am Lisa to her staff, came from a family known for their courage and dedication to the country. One wonders if they were automatically born to achieve and to serve the country. Wonders aside, this love for the country clearly underscores a life marked by accolades and accomplishments.
Lisa graduated from the premier state university, University of the Philippines, with a Bachelor of Science in Statistics, cum laude in 1978. A year later, she completed higher studies at the University of Michigan with a Masters of Science in Mathematics, major in Actuarial Science. In 1980, not long after, she achieved the designation of Associate for the Society of the Actuaries.
Lisa went back to the Philippines and began working, fittingly, for Insular Life, the largest and oldest Filipino life insurance company. She started in the Mass Marketing Division in her earlier years before making her way to the Actuarial Division. In 1984, she became a Fellow of the Actuarial Society of the Philippines. She has since worked as an actuary and became the company's Chief Actuary (1997-2013) for 16 years. Currently, she's the Executive Vice President and Treasurer of Insular Life. She is also a member for the Board of Directors for Insular Life Health Care, Insular Life Investment Corporation, Home Credit Mutual Building & Loan Association, Insular Life Development and Management Corporation, Insular Life Property Holdings, Inc., ILAC General Insurance Agency Inc. and of the Professional Services Inc. She is also a member of the Board of Trustees of the Insular Life Assurance Company Ltd., Insular Life Foundation Inc. and of the Insular Life Employee's Retirement Fund. To company employees, Lisa is known for her ready smile, a greeting of "Magandang araw!" and her genial quips during gatherings.  Matching her brilliance with diligence, she is also known for her punctuality and for going home long after everyone's gone.
Outside of Insular Life, Lisa has also served as President and most recently, a member of the board of Governors for the Actuarial Society of the Philippines. She has raised three (3) similarly bright children, Oblation scholars with the University of the Philippines, with her husband, a retired Major General for the Armed Forces of the Philippines. Perhaps one should not wonder if they were automatically born to achieve and to serve but rather witness a commitment to excellence and to the country inculcated and will continue to do so for generations to come.
SDModina