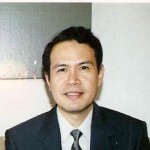 American writer Will Durant interpreting Aristotle once said "We are what we repeatedly do. Excellence, then, is not an act but a habit." Meng Santiago comes to mind. Repeatedly and habitually excellent, almost like clockwork, he has been delivering valedictory addresses throughout his life.
Meng first became valedictorian in elementary at San Juan Elementary School in 1967. He then went on to become the valedictorian at Philippine Science High School in 1971. Graduating magna cum laude from the premier state university, University of the Philippines, with a Bachelor of Science in Mathematics in 1975, he was once again valedictorian for the College of Arts and Sciences. He was also a university scholar and DOST scholar during his collegiate days, capped off with election to the Honor Societies of Phi Kappa Phi and Pi Gamma Mu. He completed his Master of Actuarial Mathematics at the University of Michigan in 1977 and was a Social Security System (SSS) Scholar.
Meng got his feet wet in the workforce through the Insurance Commission working as an actuarial assistant from 1975-1976. He then went on to work for the Social Security System as associate actuary from 1976-1981. He also was a Professorial Lecturer in mathematics for the University of the Philippines from 1977-1992. From 1981-1992, he was Partner at auditing giant SGV & Co. From 1992 up to the present, he has been Executive Vice President, Actuary and Chief Operating Officer at First Life Financial Co., Inc.
A Fellow of both the Actuarial Society of the Philippines and Society of Actuaries, Meng is also Chairman of the Association of Mortgage Redemption Insurers (AMRI) and a trustee of the Philippine Science High School Foundation. Beneath his serious and learned facade is occasional levity, with some remarking that he can crack jokes without breaking that facade. Generous with imparting his knowledge and wisdom to the young generation, Meng is indeed a valedictorian in life beyond intelligence and acclaim.
SDModina